Moisture Meters & Probes for Soil
Aquaterr 350 Series Portable Soil Meter
The Aquaterr 350 series of portable soil measurement instruments are widely used in rugged environments and are built to withstand industry abuse. The super strong 30-inch aircraft grade T6 aluminum and stainless steel probe houses the sensors that measure Temperature, Moisture and Salinity. A weatherproof steel enclosure houses the electronics and easy to read display.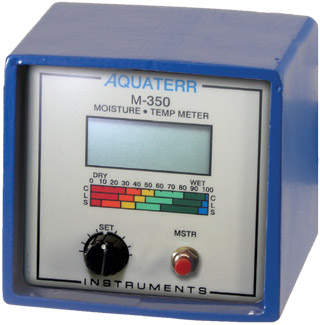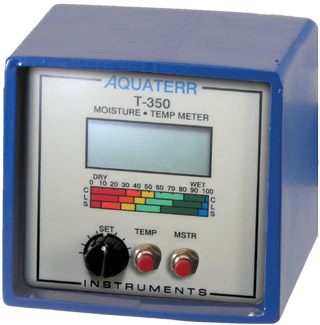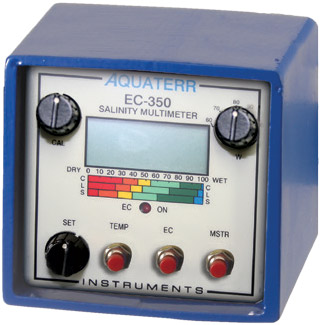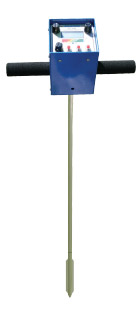 EC350 portable soil meter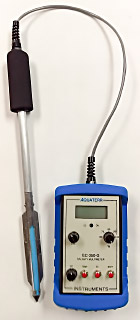 EC350-G Hand-Held soil meter
Length: 30 inches (76 cm)
Probe dia. ½ inch (1.27 cm)
Moisture range: 0-100%
Temperature range: 4.44° - 65.55°C
Salinity Range: Up to 2000 μS (microSiemens)
Hand-Held Model
Aquaterr Model EC 350-G is designed and ideal for pots and green-house work. The only difference between EC 350-G and the EC-350 is that this is a handheld unit with a shorter probe suitable for depths from 4" to 12" [10 to 30cm].
The EC 350-G has rugged construction and an accuracy of +/- 1.5%
The EC 350-G is quick and simple to use with no mucking around. Use it anywhere anytime.
The Aquaterr 350 series of portable soil measurement instruments are:
Portable! Get Immediate Measurements in the Field
Multiple Probes in one: Moisture, Temperature, Salinity
Easy to use: Insert, Select, Read
Standard in the industry
MP Kit Soil Moisture Monitor Probe & Meter
This unit measures soil moisture very rapidly and accurately. By pushing the needles into the soil surface or by digging a hole and pushing the prongs in to the bottom of the hole, the measurements are displayed directly in both raw mV and calibrated volumetric Soil Water Content [VSW%].
The Kit comes complete with:
MPM 160-B meter and probe,
USB cable and download software,
Extension tube for deeper holes - any depth down to 70 cm.
The MPKit soil moisture monitor probe comes complete in a sturdy aluminium case.
Note: There is an optional auger kit available to drill 50 cm diameter holes down to whatever depth you want to 70 cm.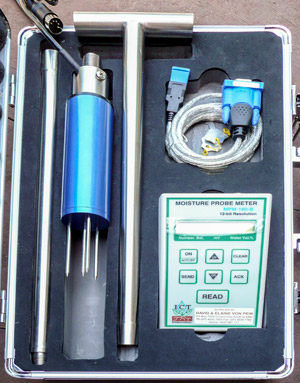 Also see: Relative Humidity Meters and Pocket Weather Meters