Extech MO257 Pinless Moisture Meter for Wood & Building Materials
Measures relative moisture of various building materials including wood, particle board, carpeting, and ceiling tiles using non-invasive Pinless Technology.
Features: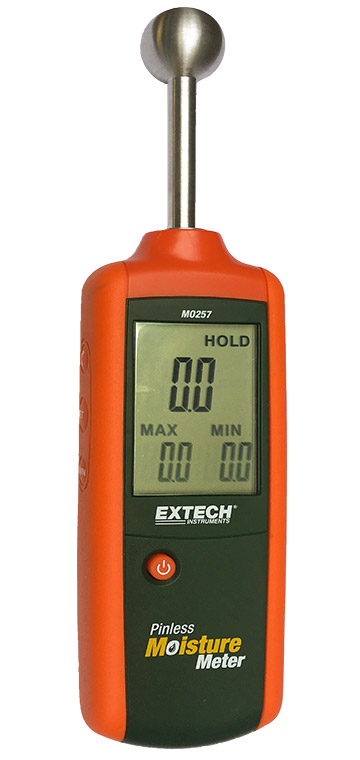 Relative pinless moisture reading for non-invasive measurement from 0.0 to 100.0 with 0.1 resolution
Measurement depth up to 1.6" (40mm) below the surface
Multifunction backlit triple LCD display
Adjustable MIN/MAX alarm levels with audible/visual alert
Pinless measurement depth from 0.78" (20mm) to 1.6" (40mm) below the surface
High frequency sensing technology
Automatic Data Hold
Two adjustable alarm levels with audible beeper and visual (flashing 'RISK' or 'WET') indicators
Automatic calibration (in dry air) when meter is powered on
Low battery indication, Auto Power off
Complete with 3 AA batteries and pouch
Specifications
Moisture Range 0.0 to 100.0 Relative only
Measurement Depth 20 to 40mm (0.79 to 1.57")
Display type Backlit LCD
Display digits Three (3) numeric displays; each displaying from 0.0 to 100.0
Display icons HOLD, DRY, RISK, WET, MIN, MAX and low battery icon
Operating Temperature 4 to 43°C (40 to 110°F)
Operating Humidity 90%, 0-30°C (32-86°F), 75%, 30-40°C (86-104°F), 45%, 40-50°C (104-122°F)
Power Supply Three (3) 1.5V 'AAA' batteries
Auto Power Off (APO) After 30 minutes of inactivity
Dimensions 235 x 63 x 28mm (9.2 x 2.5 x 1.1")
Weight 218g (7.7oz)
Extech 230 Moisture Meter for Wood & Building Materials
Features: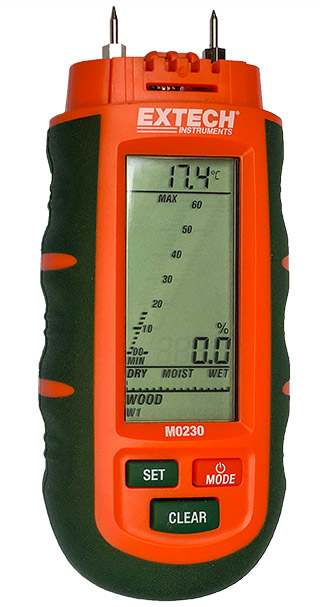 Unique Digital LCD readout with analog bargraph and numerical displays;
Simultaneous digital readout of moisture content plus ambient temperature or humidity with analog bargraph display of moisture, Max moisture values, and programmable wet/dry indication.
Use on wood, paper, wall board, sheet rock, cardboard, plaster, concrete, and mortar;
Memory contains 3 wood groups and 4 building material groups with calibrations for approximately 150 species of wood and 19 building material types;
Index Mode with programmable high and low values can be used to quickly locate moisture with comparative measurement;
Replaceable threaded measurement electrode pins;
Impact proof housing;
Auto power off conserves battery energy;
Battery operated for on-the-go measurements;
Built-in battery check and measurement verification test;
Complete with protective cap, replacement pins, and three CR-2032 button batteries.
The 230 Pocket Moisture Meter measures moisture of wood and building materials. The built-in battery check and measurement verification test to insure accurate readings. LCD screen is optimized for a 30 degree viewing angle.
Specifications
Wood Moisture Range 0 to 75%
Other Building Materials 0.1 to 24%
Temperature -40 to 158°F (-40 to 70°C)
Relative Humidity 0 to 100%RH
Measurement principle Electrical resistance
Electrode length 0.3" (8mm)
Electrode pins Integrated, replaceable
Auto Power Off After approx. 3 minutes
Operating Temperature 32 to 104°F (0 to 40°C)
Operating Humidity 85% Relative Humidity maximum
Power supply Three CR-2032 button cells
Dimensions 6.25 x 2.5 x 1.2" (159 x 63.5 x 30.5mm)
Weight 3.5 oz (100g)