Moisture Meter for Wood & Building Materials
Large dual graphical LCD displays moisture in wood and other building materials plus air temperature and relative humidity.
Features: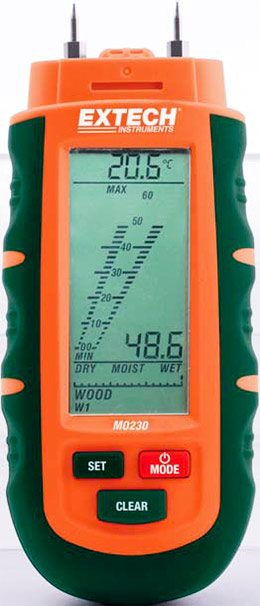 Unique Digital LCD readout with analog bargraph and numerical displays;
Simultaneous digital readout of moisture content plus ambient temperature or humidity with analog bargraph display of moisture, Max moisture values, and programmable wet/dry indication.
Use on wood, paper, wall board, sheet rock, cardboard, plaster, concrete, and mortar;
Memory contains 3 wood groups and 4 building material groups with calibrations for approximately 150 species of wood and 19 building material types;
Index Mode with programmable high and low values can be used to quickly locate moisture with comparative measurement;
Replaceable threaded measurement electrode pins;
Impact proof housing;
Auto power off conserves battery energy;
Battery operated for on-the-go measurements;
Built-in battery check and measurement verification test;
Complete with protective cap, replacement pins, and three CR-2032 button batteries.
The 230 Pocket Moisture Meter measures moisture of wood and building materials. The built-in battery check and measurement verification test to insure accurate readings. LCD screen is optimized for a 30 degree viewing angle.
Specifications
Wood Moisture Range 0 to 75%
Other Building Materials 0.1 to 24%
Temperature -40 to 158°F (-40 to 70°C)
Relative Humidity 0 to 100%RH
Measurement principle Electrical resistance
Electrode length 0.3" (8mm)
Electrode pins Integrated, replaceable
Auto Power Off After approx. 3 minutes
Operating Temperature 32 to 104°F (0 to 40°C)
Operating Humidity 85% Relative Humidity maximum
Power supply Three CR-2032 button cells
Dimensions 6.25 x 2.5 x 1.2" (159 x 63.5 x 30.5mm)
Weight 3.5 oz (100g)