Moisture Meters & Probes for Soil, Crops & Compost
Moisture Meter for Wood & Concrete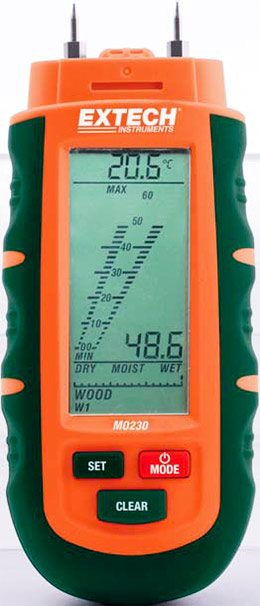 Large Dual Graphical LCD Displays moisture in wood and other building materials plus Air Temperature and Relative Humidity.
Features:
Unique Digital LCD readout with analog bargraph and numerical displays;
Simultaneous digital readout of moisture content plus ambient temperature or humidity with analog bargraph display of moisture, Max moisture values, and programmable wet/dry indication.
Use on wood, paper, wall board, sheet rock, cardboard, plaster, concrete, and mortar;
Memory contains 3 wood groups and 4 building material.
Learn more: Download brochure › (190 KB PDF)
Aquaterr EC350 Portable Soil Meter
The Aquaterr 350 series of portable soil measurement instruments are widely used in rugged environments and are built to withstand industry abuse. The super strong 30-inch aircraft grade T6 aluminum and stainless steel probe houses the sensors that measure Temperature, Moisture and Salinity. A weatherproof steel enclosure houses the electronics and easy to read display.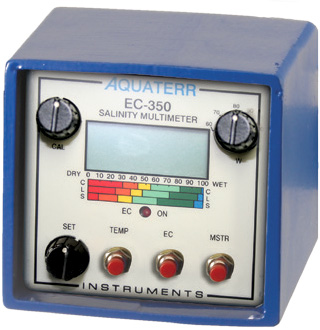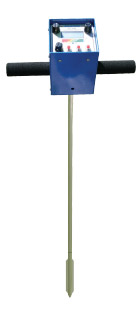 EC350 portable soil meter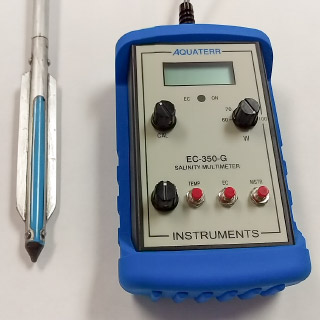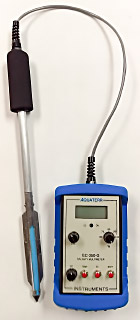 EC350-G Hand-Held soil meter
Length: 30 inches (76 cm)
Probe dia. ½ inch (1.27 cm)
Moisture range: 0-100%
Temperature range: 4.44° - 65.55°C
Salinity Range: Up to 2000 μS (microSiemens)
Hand-Held Model
Aquaterr Model EC 350-G is designed and ideal for pots and green-house work. The only difference between EC 350-G and the EC-350 is that this is a handheld unit with a shorter probe suitable for depths from 4" to 12" [10 to 30cm].
The EC 350-G has rugged construction and an accuracy of +/- 1.5%
The EC 350-G is quick and simple to use with no mucking around. Use it anywhere anytime.
The Aquaterr 350 series of portable soil measurement instruments are:
Portable! Get Immediate Measurements in the Field
Multiple Probes in one: Moisture, Temperature, Salinity
Easy to use: Insert, Select, Read
Standard in the industry
MP Kit Soil Moisture Monitor Probe & Meter
This unit measures soil moisture very rapidly and accurately. By pushing the needles into the soil surface or by digging a hole and pushing the prongs in to the bottom of the hole, the measurements are displayed directly in both raw mV and calibrated volumetric Soil Water Content [VSW%].
The Kit comes complete with:
MPM 160-B meter and probe,
USB cable and download software,
Extension tube for deeper holes - any depth down to 70 cm.
The MPKit soil moisture monitor probe comes complete in a sturdy aluminium case.
Note: There is an optional auger kit available to drill 50 cm diameter holes down to whatever depth you want to 70 cm.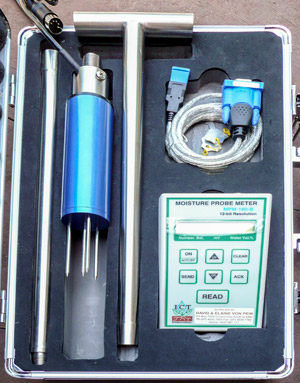 Agreto® HFM II Hay Moisture Probe
The Agreto® probe's advantages include: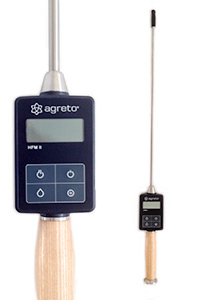 Robust and reliable construction
Stainless steel probe
No customer calibration required
Differing probe lengths available
Continuous moisture value display - no button to be operated.
5 year warranty
Good value for money.
2188 Hay Moisture Probe
Durable and consistent, this probe is equipped with:

Expanded range of 8% to 44% moisture
Large LCD digits clearly visible both day and night
Built-in re-calibration feature
50cm (20") probe
Direct readout for % moisture and bale temperature
For round and square bales
Accurate throughout the normal range of stored Alfalfa, Timothy and Clover Hay.
Measures 0-107c Temperature.
Soil pH & Moisture Meter/Probe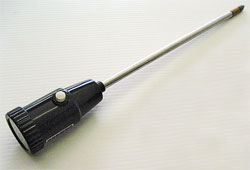 The Soil pH & moisture meter is a very useful meter to obtain an indication of soil moisture & pH. The 30cm x 10 cm probe is good for pots etc. and can be used in the field as well. The meter includes a clear, simple to read dial.
Compost or Soil Moisture Probe
Lengths available: 12" (30cm), 2ft (60cm), 3ft (90cm), and 4ft (1.2m)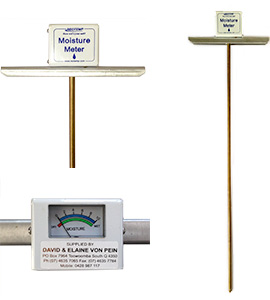 Also see: Relative Humidity Meters and Pocket Weather Meters