pH meters for Soil & Water
Ionix pH1 Meter Kit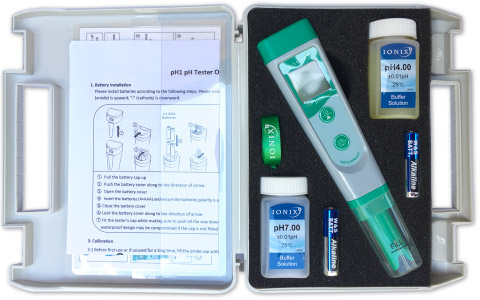 Ionix pH1 Meter Kit for measuring soil & water acidity
Ionix pH 5S Spear Meter Kit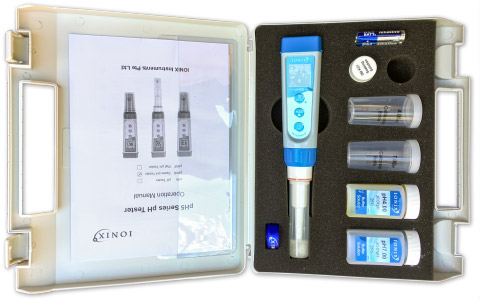 Ionix pH 5S Spear pH Meter Kit for measuring soil & water acidity
ECO Testr pH 2 Meter

ECO testr pH 2 meter
ECO Testr pH 2 meter, manufactured by EUTECK Instruments, provides water analysis solutions for: water/wastewater treatment, environmental monitoring, education and agricultural applications.
The pH meter features:
Auto buffer recognition
2 or 3-point calibration
Automatic temperature compensation
Water proof
Milwaukee range of waterproof pH meters.
Milwaukee's Blue range of waterproof testers supercedes the IP67 range and represents the new wave of pocket-sized pH, Conductivity and TDS meters. These waterproof testers incorporate one of the world's first user-replaceable electrodes to increase the longevity of the instrument. These light-weight testers are built for rugged outdoor use and wet applications.
The waterproof pH tester comes with a 2 point manual procedure for direct calibration to eliminate the difficult push button system used with other meters in the waterproof range.
The pH52 and pH 53 have a separate visual temperature reading in the LCD.
Packaged in a sturdy plastic case with foam inlay and a button down side for ease of opening.
Milwaukee range of waterproof pH meters
Model
Accuracy
Resolution
ATC
Range
Electrode
pH 52 Waterproof
±0.1pH
0.1pH
yes
-2.0 - 16.00pH
replaceable
pH 53 Waterproof
±0.02pH
0.01pH
yes
-2.0 - 16.00pH
replaceable
MA73600
no
pH electrode
MA73047
yes
pH electrode

Milwaukee is a trademark of the Milwaukee Co.
Also see the range of: