Horiba plant sap, water, soil water solution quality meters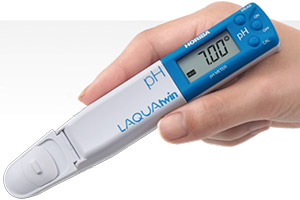 Horiba Compact Laqua Twin meter range for plant sap, water, soil water solution & more.
A single drop on your lab-in-a-pocket - 11 meter models in the XX-11 series
Accurate measurement from only a single drop to HORIBA original flat sensor. LAQUAtwin's easy, reliable and quick measurement of 7 parameters brings new dimension to your water quality testing.
Accurate reading from only a single drop of sap, in a few seconds.
pH, conductivity, ions and salinity. 7 parameters, 11 models.
Calibrate and measure at the touch of a button - the Smiley face will tell you when the result can be read.
LAQUAtwin is fully waterproof and dustproof (IP67 rated).
Carry case comes standard for handy portability.

| Measurement function | Model |
| --- | --- |
| pH | pH-11 |
| Conductivity (EC) | EC-11 |
| Sodium Ion (Na+) | Na-11 |
| Potassium Ion (K+) | K-11 |
| Nitrate Ion (NO3-) | NO3-11 |
| Calcium Ion (Ca2+) | Ca-11 |
| Salt (NaCl) | NaCl-11 |
Note: not all LAQUAtwin models depicted may be available in every country.
Contact the Meter Man - David von Pein to discuss your water quality, soil and plant health meter requirements.
LAQUAtwin and HORIBA are registered trademarks of HORIBA Ltd, Japan.