Hardness Tester

Fruit Callipers

TR 53307 Universal calliper providing simultaneous reading of diameter and circumference. Range 25-95 mm.

See the full range of Fruit Callipers/Sizers ›
Olive 'Push & Pull' Tester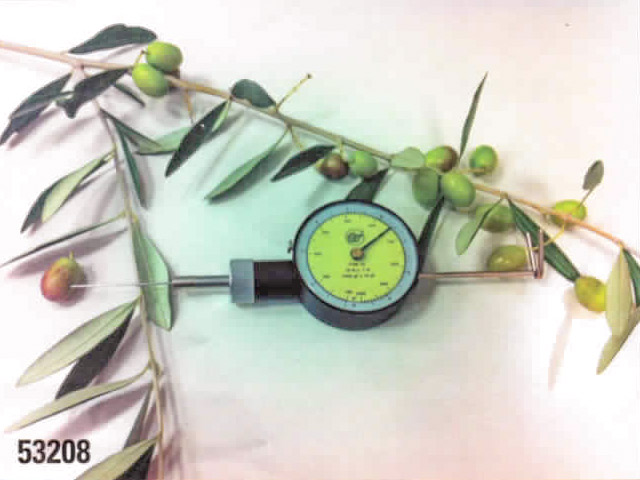 The 'Push & Pull' instrument provides for an accurate index to determine the right period for olive harvesting, measuring the pulp firmness (push mode) and the strength necessary for pick olive off the branch (pull mode).
Range: 0-1 Kg (0-2 Lb)
Division: 10 gm (0.02 Lb)
Accessories: n° 1 plunger - n°1 hook
Shore Meter for Fruit Hardness Testing &nbsp
53215 TP (Flat tip) & 53215 TR (Spherical tip) Fruit Hardness Tester (non-destructive)
The Shore hardness tester is used for the hardness determination of fruit and vegetables. Hardness tests can be done in either a vertical or horizontal position and on places which are difficult to reach.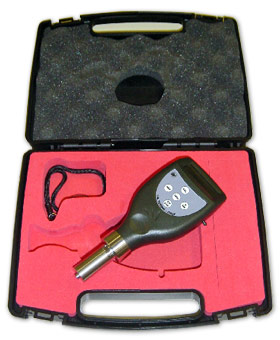 Technical Data:
Range 0-100 shore
Digital index
Plunger 0,25 cm2
Vegetable hardness is a very important index in the quality control process. The main advantage of this instrument is that it is non-destructive. This means it has these advantages:
The maturation level of fruit can be monitored throughout the plant's entire growth cycle;
Measurements can be carried out on the products where the classic fruit pressure tester (a destructive instrument) do not give acceptable results.
The instrument is very simple to use: once taken the instrument, place the plunger against the fruit and progressively press until the fruit is completely against the grey basement of the plunger.
For a more meaningful control it is necessary to take various samples of fruit. Two measurements must be carried out on each piece of fruit - on the opposite side of the fruit.
The determined value, average of the two measurements, is expressed in Shore degrees, range of reference for the hardness of a material.
See also Soil Penetrometers (Soil compaction testers)