Solvita Compost Maturity Test Kit
Now compost users and producers can have what you deserve: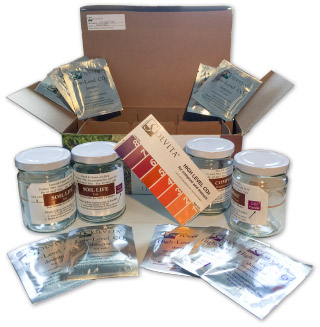 The Solvita Compost Maturity Test Kit is an important analytical tool which:
Enables users and producers of compost and recycled residues to conduct their own tests.
Permits rapid and efficient monitoring of decomposition progress and determination of compost use readiness.
Provides quality results in just 4 hours at a fraction of the cost of laboratory fees.
A true scientific breakthrough, the Solivata Compost Maturity Test is simple to use, economical and reliable. This new product will help both users and producers reach new quality standards for a finished product.
The Compost Maturity kit is more than just a plain biological respiration test. It provides a comprehensive and practical instruction guideline which tells you:
How to measure the stage of your compost decomposition
How to determine the best use of your compost based on its current state.
How to troubleshoot the compost process based on the Solvita results.
Whether or not you already use laboratory procedures like O2 and CO2 respirometry to measure stability or maturity, the Solvita kit has been extensively correlated with standard procedures and gives comparable information. The accuracy and usefulness of the Solvita test has been demonstrated in government and university trials. (Test performed by Maine Cooperative Extension Services, Ohio State University, Cornell University.)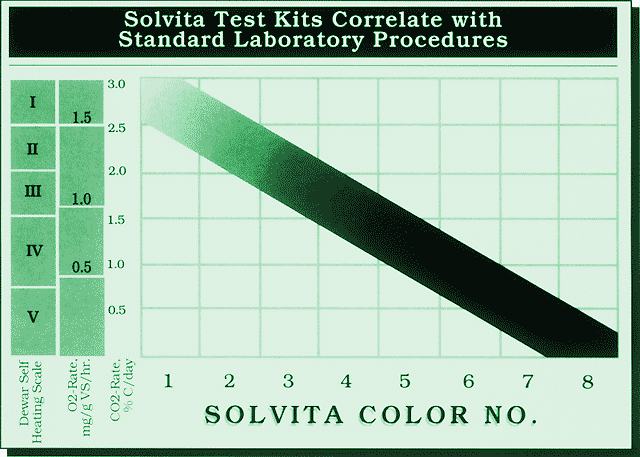 Image derived from Solvita sales materials. Used for illustration only.
The Solvita Compost Maturity Test Kit is provided in a package of 6 units. Each six-pack contains:

Six test jars
Six gel paddles
Six buffer packs
One tamping jar
One comprehensive instruction guide with colour charts.
Refill kits are also available. The refill package includes supplies for six tests; jars from complete kits can be reused up to ten times - saves money and eliminates waste.
Solvita and Woods End are registered trademarks of Woods End Research Laboratory.