Soil Samplers, Corers, Augers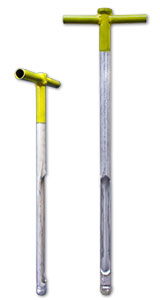 Australian made soil samplers
Our Australian made Soil Samplers are manufactured locally from tough 316 stainless steel. The samplers have a 20mm (3/4") internal diameter with "T" handle and are available with either a 30cm (12") cut-out section or strait through - whichever best suits your needs (first of the two in the photo).
Our Soil Samplers are available in lengthes of 26" (660mm) or 36&quot (900mm) long. Other lengths may be available as a made-to-order option.
Larger diameters eg 25 mm ID or 40 mm ID can be supplied.
Soil samplers come with a sturdy "T" handle. An optional extra, a heavy-duty top that can be hit with a hammer, can also be supplied.
Soil Auger suitable for clay soils
Core diameter 2.5" (63mm)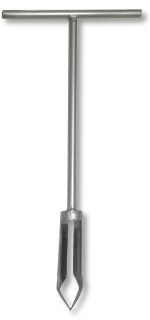 Australian made soil samplers with auger head.

Close-up of the sturdy auger head.
Note: Custom length shafts can be manufactured to ordered.